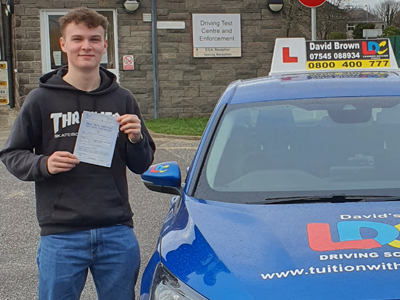 Cohen
Passed First Time
David is a very professional instructor and thorough with what needs to be worked on. A very calm and funny instructor that you can always have a laugh with. I would recommend David to anybody.
Ben Annear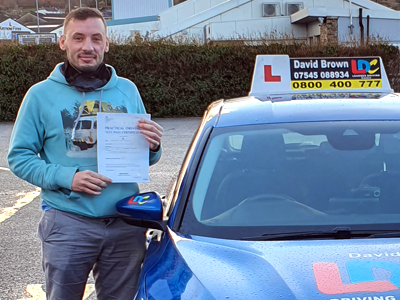 Ben Annear
Passed First Time
Just passed first time with David, I've had a few instructors I've learned with but David was by far the best. Lessons were always well structured, he made you feel at ease, and made driving enjoyable. Highly recommend him. And the great banter is just an added bonus.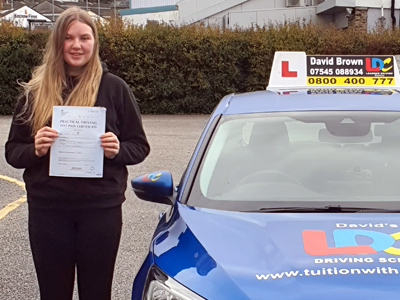 Emily Brown
Passed First Time
Dave has been a funny and considerate instructor who has helped me learn quickly and effectively. Going to miss our lessons, thanks Dave!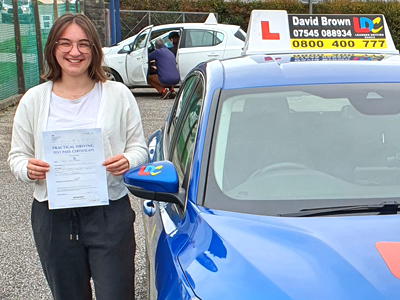 Chloe Fraser
A good pass
David is a super lovely person and never failed to calm my nerves. I'll miss the laughs but thank you for getting me to this point!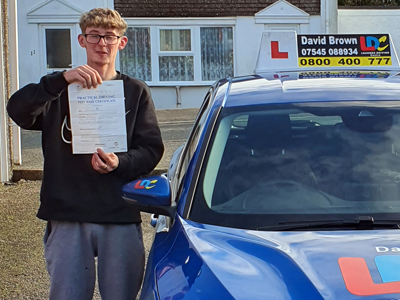 Liam Basset
Top Lad
David is a great driving instructor, who makes learning with him easy but fun, I couldn't recommend him enough. Big thanks to him for getting me here.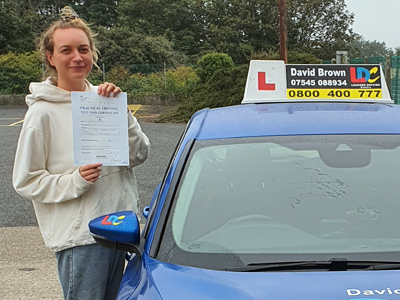 Sophie Ryder
Top Lad
Learn with David, learned so much and the banter was unreal. Thanks Dave 😂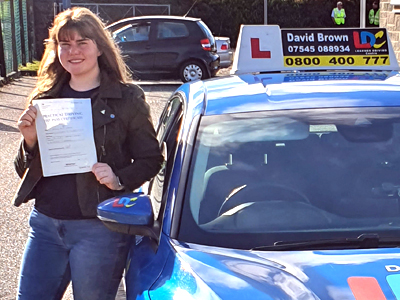 Rosie Walker
Passed First Time
Thanks so much again David!! 😁 You were so helpful, and you made everything so relaxed and easy. I'd absolutely recommend you, 100%!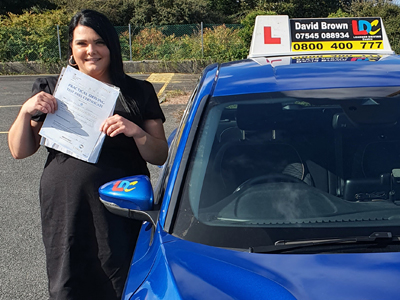 Sarah Clemow
Good Pass
I had an instructor before Dave, I wish I'd had him straight away, he sorted me right out. He's a great person.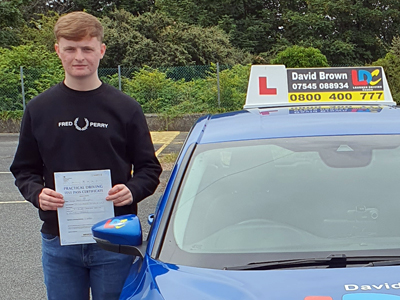 George Mcloughlin
Massive thanks to David, when I started lessons with him, I'd only been out with mum, which was great, but David really helped polish things off in a calm, friendly professional manner.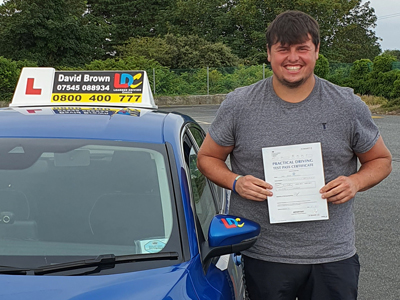 Niel Stanliek
Passed First Time
Massive congratulations to Niel, passed first time, with only two minors and all done in twenty two hours. Remember Niel, if Ballet was easy, rugby players would do it. 😂 Well-done buddy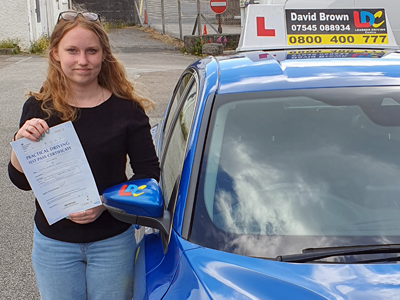 Lucinda
Passed First Time
David is a brilliant instructor and I cannot thank him enough. He is calm, patient and professional and supported me to pass first time. Overall a fantastic experience. I would definitely recommend learning with David, don't waste time looking anywhere else!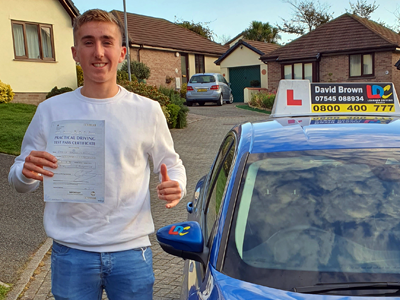 Curt Watson
Top Lad
What can I say about David's lessons, fantastically well structured lessons, always learned loads and he's a top lad as well.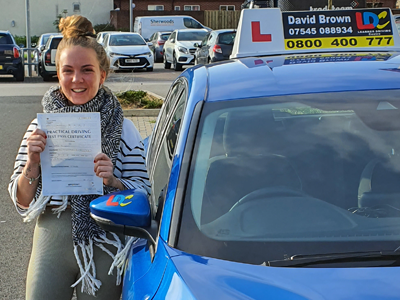 Chloe Dunstan
Passed first time
David is a real laugh, but don't let that put you off, he really knows driving and how to teach in a friendly constructive manner. I passed in 12.5 hours. Thanks David.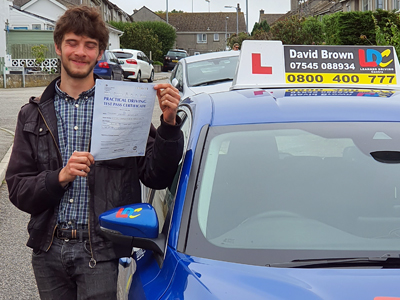 Joseph Ninian
Nice bloke
What can you say about David, not a saint but a really nice bloke, he encourages you all the time, does his best to inspire you and never pushes too hard. Go with David, he will get you through!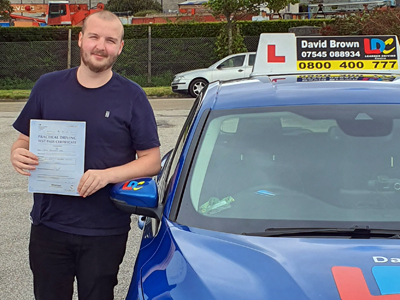 James Geer
Passed first time
There are far worse people to spend 15 hours with! Thanks David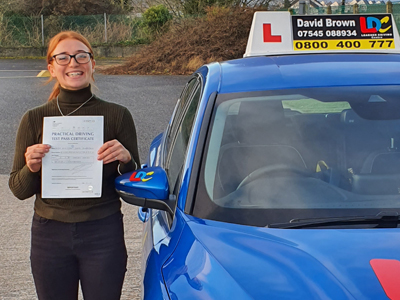 Brittany Smaldon
Can't really thank David enough.....what a nice bloke. Really gets you to a high standard, never pushy but always calm and encouraging. David has his ways but trust him and he'll get you there. Highly recommended.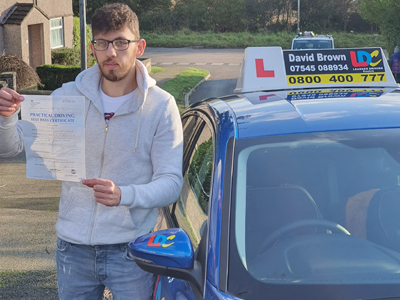 Ash Matthews
Passed 1st Time
I passed first time, thanks to David. He's firm but fair. He's professional but friendly. He knows driving. Go with David. Thanks David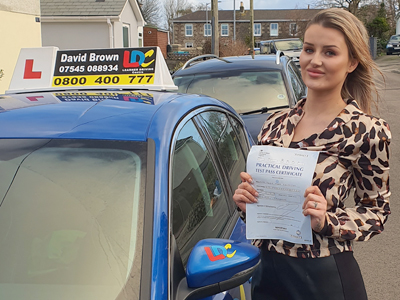 Rosie Griffiths
Passed 1st Time
I only found David on Monday but I'd passed by Friday....I'd had several instructors before David. He was able to pin point where I was going wrong, rectify the problem and importantly without making me feel rubbish. Take lessons with David, you won't regret it! Highly recommended.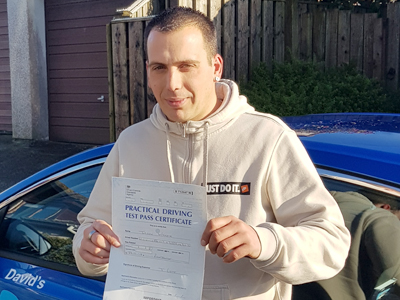 Jason.W
Passed first time
Can't believe I passed 1st time!! All thanks to this guy! if you want to learn to drive and have a damn good laugh at the same time then this is your man. 😀 He's good at his job and hilarious, highly recomended!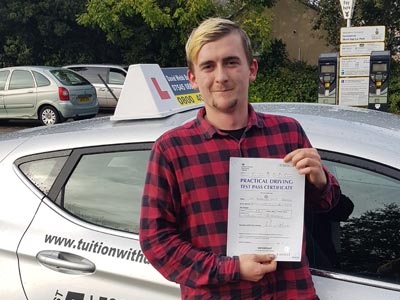 Bradley.B
Passed in 15 hours
What can a say about David, a real professional, he manages to put you at ease, whilst keeping lessons relaxed, well structured and you always come away feeling like you've achieved. I passed in 15 hours and can't recommend David highly enough. Thanks David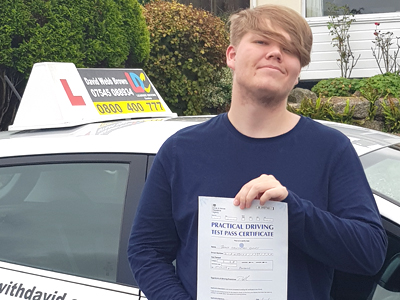 Jamie Gibney
Passed first time
Passed first time with David, he has always been fun to learn with. Easy to ask questions and I always felt confident with David in the car. Highly recommeded.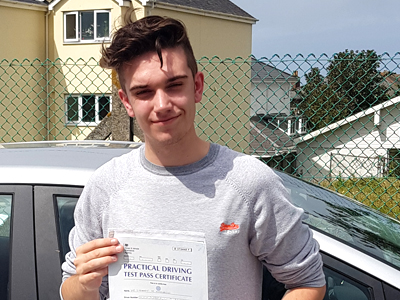 Stuart Hall
Passed first time
Just passed first time with David.....I couldn't have passed any quicker, highly recommeded. Thanks Dave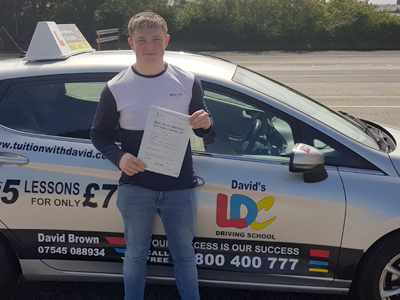 Thomas Vincent
Legend
Thank you so much to David Brown for helping me pass my driving test, if anyone needs a legend of a driving instructor, he's your man.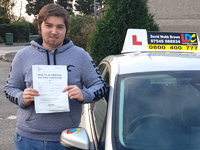 Ethan.B
Learn to drive with David, he's friendly, professional and puts you at ease.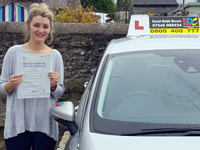 Enya.D
Can't really recommend David enough, he's really does his job to a high standard, he always professional but such a nice guy!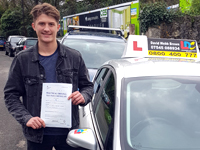 Harry Butterworth
Time spent with David was thoroughly enjoyed, would highly recommend.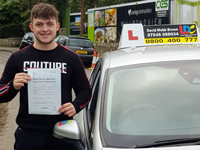 Scott Butterworth
A massive thank you to David, he makes driving enjoyable as well as fun and he's a really nice guy.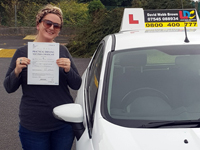 Laurel Little-John Clark
Passed first time
Glad to have found Dave for my lessons when I moved to Cornwall. I learn't a lot in a fairly short period of time. Dave is very professional and his positivity played a big part in me passing first time. Highly recommend! Thanks Dave!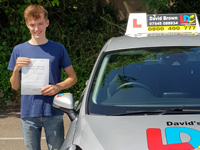 Zac.B
Just passed with David.....really friendly, calm and professional. Highly recommended instructor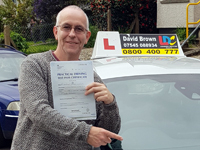 Gordon Collins
Highly recommended
I can't thank David enough....very friendly but very professional. Thanks David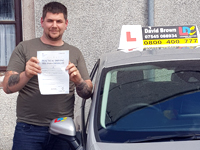 Simon Walker
Passed first time
David is a fantastic instructor, lessons where always well structured but never overwhelming. He's calm and friendly highly recommended.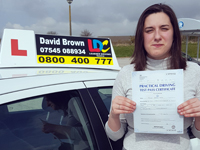 Zoe A
Fantastic!
Dave is a fantastic Instructor. Not only does it help you pass, but he helps your confidence grow. Thank You!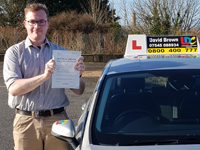 Charles Williams
Passed first time
I had no driving experience but with Davids firm but fair approach I passed first time. Highly recommended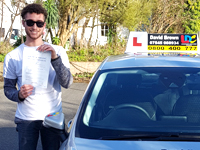 Jack Douglas
Passed first time
Just passed first time with David. David inspires confidence all the time and he is a laugh as well. Thanks David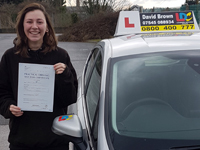 Georgia Palmer
Passed first time
I can't thank David enough....excellent instructor, calm and funny but you learn loads. 10/10 for banter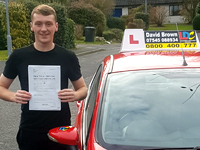 Luke Jephcot
Passed first time
I was nervous learning to drive but David soon put me at ease. Highly recommended.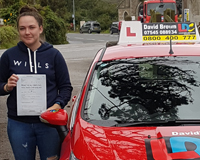 Ebony Jefferies
Passed first time
Passed first time with David.....highly recommended.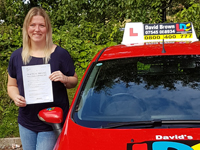 Amy Cole
Just passed with David, what can I say about Dave.....a good laugh but he knows his job and is passionate about his job and Coffee.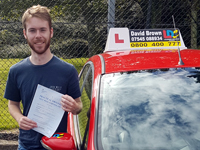 Samual Wadsworth
Just passed my test with David, can't thank him enough. He was calm, professional but friendly. In a calm environment, David never pushed too hard but I learned so much.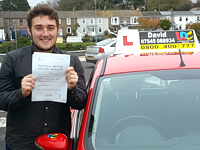 Callum James
Passed 1st time
David was firm but fair, a good instructor, thats why I passed first time.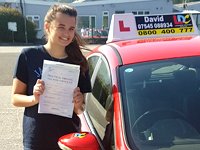 Mia Cole
Just passed first time with David, no minors. A great instructor, lots of patience but maximum banter! Lol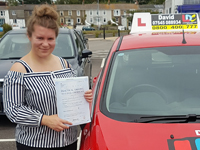 Nancy Bowden

Learn to drive with Dave was great he's so relaxed but you learn loads....fantastic instructor.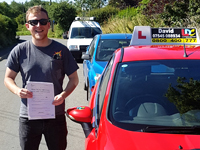 Lewis Williams
Passsed first time
Driving lessons with Dave have been a pleasure. He is very professional while still being friendly and easy going. This made the learning experience enjoyable and instilled me with confidence in my ability. Dave is an exceptional driving instructor and I recommend him to anyone!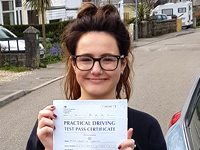 Jade Webster
Passed 1st time
I had three previous instructors before I went to David, he sorted me right out and I passed first time, Great Instructor.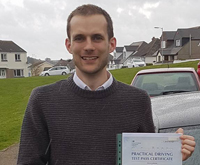 Andrew Davy
I passed first time, thanks to Davids excellent tuition. I'm very happy with the whole experience and highly recommend him as an Instructor.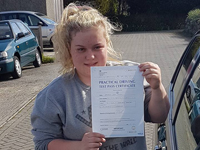 Bryannie Wicks
David was easy to talk to and a good laugh (obviously only when safe). Thank You.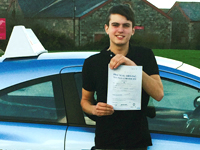 Adam Houghton
Had a really good week, very much enjoyed the course and had a laugh with David. The cooked breakfast definitely helped pre-test nerves.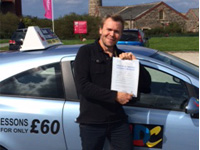 Nick
Can't recommend David highly enough. Very professional a pleasure to drive with.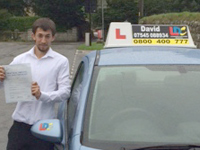 Samuel
Dave was friendly, reliable and a great instructor. I'm glad I went with LDC.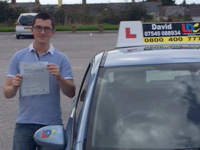 Kyle
I enjoyed learning with Dave, good structured lessons. Top Lad.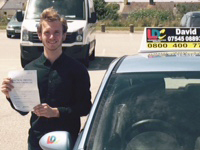 Lewis
David has been very meticulous, but also has a great personality, he is easy going and a great teacher. I highly recommend him and have enjoyed the course. Thank you.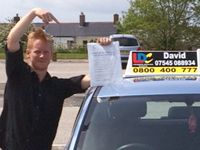 Andrew Smith
Sorted me right out. Passed with no worries.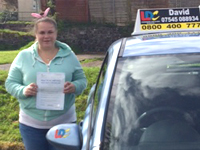 Stephanie Heim
David was very thorough, he will not put you in until you are ready. He is very patient, understanding, reliable and a really nice guy.
Tyro
I had a great time learning how to drive with Dave. He was laid back and easy to talk to but also made sure I was learning. I was happy with the time that i passed in and passed before I expected. I am glad I have learned with Dave and would recommend LDC to anyone.